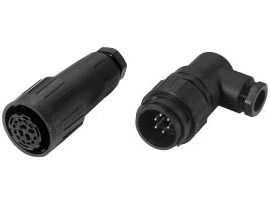 Tuchel C 16-3 Series Connectors


High performance circular cable Tuchel C 16-3 connectors are designed to meet harsh environmental conditions. Straight and right-angled, high-grade plastic cable housings are preferred for power and signal applications. Vibration-safe connections are provided by a solid bayonet coupling. For safety, pre-earth first-mate last-break contacts are standard. Screw and crimp terminations are available. Sealed to IP65.
The circular connector series C 16-3 has two housing sizes. The connectors are designed to meet the high requirements of industrial applications under harsh environmental conditions. The range includes versions with screw and crimp terminations. A selection of crimp contacts for hand crimp tools and crimp machines enables a reliable termination resulting in qualitative, technical and economical advantages. A broad selection of housing styles are available.
· For applications in machine tools, measurement and control and process technology.
·
Housing are made from high grade plastic material.
·
Vibration safe connection by solid bayonet coupling with lock in position.
·
Cable housing straight and right-angled with various cable outlets.
·
Protection degree IP 65 per IEC 60529 in mated condition.
·
Internal strain relief with screw clamp or concentrical strain relief provides a safe cable restrain.