Tuchel C 091 A Connectors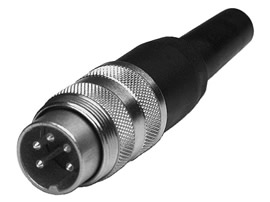 Tuchel C 091 A Series Connectors


Low cost, circular cable Tuchel C 091 A connectors with plastic backshells. Used in a wide variety of industries and equipment. High quality metal threaded coupling and internal cable shield terminations provide EMI protection when fully mated. 2 to 8, 12, and 14 contacts are available. Solder or crimp terminations are available with silver or gold contact plating. Sealed to IP40. Connector part numbers begin T3xxx.
·
Circular connectors with metal screw coupling and plastic back shell.
·
Wire strain relief is metal half shell construction for shielding.
·
Contact positions in 2 to 8, 12 and 14, IP 40 when properly mated.