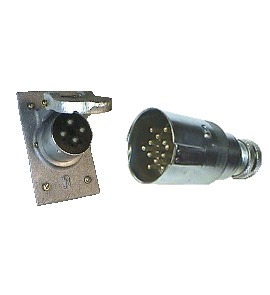 Triploc Connectors
Triploc Connectors for power and control connectors are used in ordinary industrial applications
Triploc connector plugs and receptacles are best suited for power and control connections in ordinary locations.
Wire Range: Contacts will accommodate from # 20 up to and including # 10 AWG
Current Range: Control current up to 30 amperes at 600 volts
Contact Count Range: Single contact through 24 contact configurations in grounded and non grounded versions
Applications: Control/Power connectors for ordinary indoor industrial applications. Spring loaded coupling mechanism available in an 'Auto' release style. Termination in both solder and pressure styles.
Approvals: CSA and UL approvals apply to specific items.