TMPC Power Mount Connectors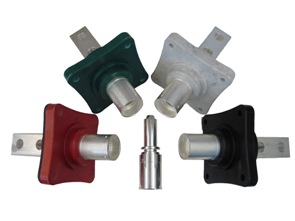 TMPC Power Mount Connectors
Square flange mounted, Single pin mating, Push/Pull with locking clip, Power connector series
Amphenol Industrial Operations introduces the addition of our "New" TMPC Power Mount connector flange mounted series. The New TMPC Power Mount series is an addition to our time tested TMPC Single Pin power connector line. The TMPC Power Mount incorporates our existing TMPC connectors with RADSOK

® contacts into our new thermoplastic molded receptacle flange.
Available in color codes per the NEC AC/DC Electrical requirements, the TMPC Power Mount series is designed to work with current IEEE Type P drilling cables (sizes range from 313 MCM through 777 MCM). The RADSOK
® contacts allow for higher amperages and reduced insertion/removal forces when compared to similar products in the market.
·
RADSOK contact provide increased amperages than competition
·
Contacts rated at 1500 amp for 777 MCM cables
·
Contacts machined from high grade aluminum to offer longer life, more mating cycles
·
Lower insertion/removal forces is a by-product of our RADSOK contacts
·
Molded flange base mounts directly to Stainless or Aluminum panels, thus eliminating the need for added secondary mounting fixtures
·
Color coded mounting bases and cable side boots available to help prevent cross mating, while allowing easier electrical phase identification
·
Connector series comes complete with molded Hypalon caps and insulation boots
·
Color coded per National Electric code
·
Design to work with IEEE Type P drilling cable
·
UL Recognized component materials