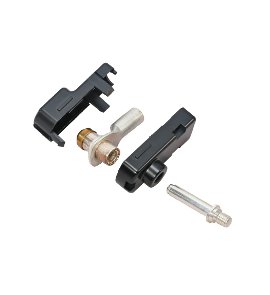 SurLok™ Connectors
Crimp Compression Lug, Plastic Snap Together Housing, RADSOK® Technology.
The SurLok connector non-environmental compression lug is a field installable, highly reliable, economic alternative to high conductivity, cast copper one or two hole compression lugs. The head of the SurLok™ pin snaps into a retaining device incorporated into the socket, providing a secure connection that ensures voltage and amperage levels are maintained throughout the duration of the application.
·
Sizes Range from 3.6mm (70A) to 14mm (500A)
·
Meets or Exceeds Electrical Performance of Bolt On Lugs
·
Crimps with Industry Color Coded U-Die or 4 Indenter Crimp Tools
·
Snap Together Plastic Protective Cover
·
Engagement Force 2 – 5 lbs., 10 – 15 lbs Locking Force
·
Separation Force 10 – 15 lbs.
·
Silver Plated Electrical Engagement Area – Matte Tin Crimp Barrel
·
Pin is Retained by Male Metric Threads in Bus Bar or Laminate
·
RADSOK® Technology boost Amperage by 50%
·
Ideal for Applications Requiring Frequent Mating Cycles or "Plug and Play" setups
Specifications
· UL1977
· RoHS Compliant