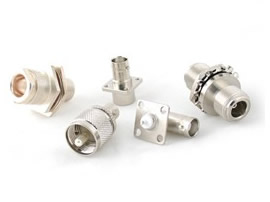 RF Connectors


An extensive range of RF connector coaxial interconnects is available in standard, miniature, sub-miniature, and micro-miniature types. Also available are between-series adapters, precision APC, and special purpose connectors for specific needs.
Amphenol RF 3-piece BNC Jacks provide a wide performance range for Commercial, Industrial and Military Grades. The Amphenol RF BNC Jacks accommodate a variety of cable types ranging from standard RG to LMR styles and mate to industry standard BNC plug receptacles. These 3-piece crimp connectors are complimented with simple tooling that allow for quick and reliable termination.
Application usage for the BNC line of connectors from Amphenol RF is diverse, including: Broadcast, Telecom, Digital Video, Mil-Aero, Instrumentation, Satcom, Medical Equipment, Cable Assemblies, Radios, Surge Protection, Base Stations, Antennas, DS3/DS4.
·
Developed for use in MRI and non-magnetic environments
·
Designed to carry 50 Ω RF signals within the magnetic imaging field of MRI equipment
·
Manufactured under strict quality procedures to ensure absolute permeability
·
100 percent tested for magnetic permeability