PPS (Push Pull Series) Connectors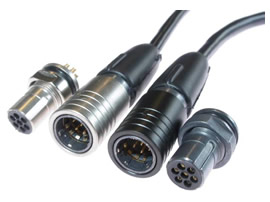 PPS (Push Pull Series) Connectors


The PPS (Push Pull Series) Connector is a miniature connector with push pull technology and RoHS compliant. It is designed for use on equipment that is not submersed or left exposed to the elements for prolonged periods, within Industrial and Ground Harsh Environment applications. To mate, the plug is pushed onto the receptacle. The connector is locked in its rest position and is released by pulling back the coupling nut.
The PPS has a small outside diameter and several inserts are available, including highdensity insert arrangements. The plugs can be fitted with EMC grounding fingers for increased screening effectiveness. Amphenol Ltd offers full cable harness solutions with overmoulding capabilities or, where preferred, a heat shrink boot can be used.
The plug has a black silver body and backshell with a black coupling nut. Other plating finishes available are electroless nickel and both are chemical and NBC resistant. Receptacles are available in black silver plating as standard and electroless nickel. All metalwork is machined from brass for increased mating durability.
·
Contact Arrangement: 05-05 / 05-06 / 05-07
·
Working Voltage: (Sea Level) 115 Vac
·
DWV (Sea Level): 500 Vac
·
Insulation Resistance (Sea Level): 1GΩ @ 500 Vdc
·
Current Rating (Individual Contact): 3A
·
Current Rating (all Contacts Simultaneously): 1A
·
Temperature: -55°C / +85°C
·
Salt Spray: 500 hours subject to selected plating finish
·
Fluids: As per MIL-C-26482 Series I
·
Vibration and Shock: MIL-C-26482 Series I
·
Sealing: IP67 Unmated Bulkhead Connectors