ModLink Junction Box Connectors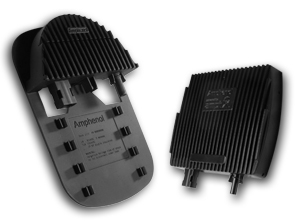 Helios ModLink Modular Junction Box Connectors

Modular Junction Box, Composite, Power & Signal


The ModLink Junction Box Connector provides PV panel manufacturers an advanced junction box that enables cutting edge smart technology at no additional cost . Built-in industry standard connectors mate directly to Amphenol Industrial Helios H4 connectors or to a wide range of "Smart" modules. These include DC/DC converters/optimizers, performance monitoring and DC/AC microinverters.
The ModLink Junction Box consists of a base unit that is firmly attached to the back sheet of the panel. The base unit already contains protective diodes and built-in connectors; ready to be used as a basic junction box from the start. When it's time to upgrade just disconnect the connectors, snap-in the smart module, reconnect the connectors and you're done.
This modular technology provides instant plug-and-play versatility. Smart modules can be added (or removed) at any time without any additional materials needed or wasted.
The base module retains the basic junction box functionality and protection, no matter if there are smart modules attached or not. This allows for exchange or removal of smart modules if repairs or upgrades are needed, without losing the basic function of the PV module.
There is no longer a need for "pigtails" attached to the photovoltaic module, making manufacturing and handling easier.
Features & Benefits
· Modular concept; only add what you need, when you need it

· "Future proof": Ready to accept future smart modules

· Base unit is a complete junction box

· Base unit thermally separated from panel

· Uses industry standard connections

· Plug-and-play; no additional components needed
· No wasted materials when upgrading

· Smart module snaps into base; no drilling, no additional cabling

· Cost effective on every level: For panel OEM, distributor, installer, owner/operator

· Can be upgraded at any time



Specifications
· IP 67

· UL: 600 V IEC: 1000 V