MIL-C-22992 QWL Connectors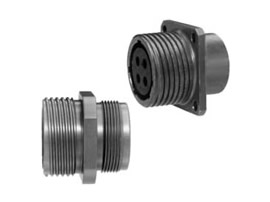 MIL-C-22992, QWL Connectors


Amphenol MIL-C-22992 QWL connectors are tailor made for compact, heavy duty industrial use. The outstanding performance of this series makes it well suited for shipboard installations and ground support power distribution applications where physical strength and dependability are key requirements. Typical Amphenol part numbers begin 10-107. The QWL Series are a versatile, economical alternative to military qualified designs.
·
High strength aluminum shells with Alumilite 225* hard anodic finish and shock resistant resilient inserts.
·
Rugged double stub coupling threads, left hand accessory threads and simple single keyway mating.
·
Both MS and custom insert patterns available for a wide variety of multiconductor cables.