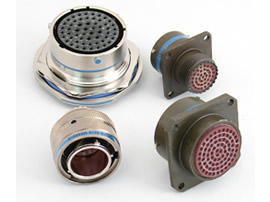 JN1003/SJT Connectors


JN1003/SJT connectors, commonly know as 38999 Series 1 ½ , offer the high-density contact arrangements of MIL-DTL-38999 connectors in a miniature circular shell. Qualified to JN1003 meeting the requirements of VG96912. SJT features environmental sealing, wide operating temperature range (-65°C to 200°C), quick mating three-point bayonet coupling, scoop proof shell design with EMI-RFI shielding available. Optional 500-hour salt spray resistant plating.
·
A three point bayonet coupling system that not only makes the LJTs quick mating but also provides an audible and tactile "click," along with visual verification of mated connectors via a sighting hole and highvisibility, bright blue painted bayonet pins.
·
LJT plugs feature high quality grounding springs that provide 360 degrees of EMI/RFI shielding protection. These springs ground the barrel of the LJT plugs to the inside wall of the LJT receptacles with a wiping action that offers effective protection from reception or transmission of electronic noise.
·
LJT connectors come in a wide variety of contact sizes and layouts up to 128 contacts. Printed circuit board, fiber optic, thermocouple, and coax style contacts are available for special applications.
·
For standard applications, LJT's come with crimp style military contacts design to resist bending and provide reliable performance under the most rigorous conditions.
·
LJT's are available with cadmium over nickel plating that has met and passed the 500 hour military salt spray corrosion tests.