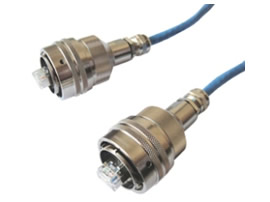 IP67 RJ45 USB Connectors


IP67 rated RJ45 and USB connectors are ideally suited for industrial applications with straight plug, wall mount, and jam nut options available. With an evolving world of high speed data transfer connections comes the need to branch out from the PC and server room into harsh environments. Protecting the transmission and signal integrity is job one with Amphenol Industrial's line of IP67 rated RJ45 and USB connector solutions.
·
RJ45: Voltage rating: 125V AC
·
USB: Voltage rating: 30V AC
·
Operating temperature: -40° C to 100° C
·
Water protection: Dynamic IP67
·
Durability: Assures 200 cycles mating and un-mating
·
Vibration: Vibration (sinus) freq. 10-150-10 Hz, 20 sweep each axel and 40m/S2 amplitude for 2h when a signal speed is 10Gbit/s Non destruction or function degeneration under the test. (IEC60068-2-6)
·
Shell: Aluminum Alloy or Copper Alloy/Zn Alloy/PA/Stainless Steel
·
Cable to be Cat. 5 or above cable; Cable should be out door cable.
·
Cable OD: 3~6.5mm (Optional).
·
Shielding request (Optional)