High Density 38999 Connectors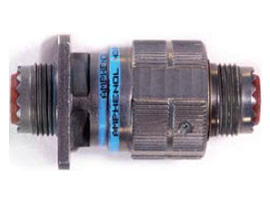 High Density 38999 Connectors


The High Density 38999 connector was designed to work with existing mil-specified 38999 shells. To the end users familiar with standard 38999 connectors, this family of high density connectors will look, feel, and perform just like the mil-qualified connectors. Utilizing an existing mil-qualified 39029 size 23 contact and mil-qualified shells, the new system is usually a drop-in connector. Even though the HD38999 has 30% more contacts, it still performs to minimum electrical requirements of standard 38999 connectors.
·
6 shell styles plus special deep-reach shells for increased panel thickness and special stand-off flange shells for attachment to printed circuit boards.
·
Special design with integral strain relief's.
·
Over 50 insert patterns.
·
Hermetic seal (glass fusion) receptacle styles available.
·
Stainless Steel Firewall, Class K styles available.
·
Variety of shell finishes.
·
Twinax, coax, triax, quadrax and filter contacts and fiber optic termini options.
·
Fail-safe lanyard release plug style versions.
·
Printed circuit board contacts, wire wrap and compliant press-fit contacts.
·
ESD (Electrostatic Discharge Protection) available with use of Faraday cage to shunt high voltages.
·
Additional EMI/RFI protection devices can be integrated.
·
Flex termination assemblies for attachment to PCB boards.