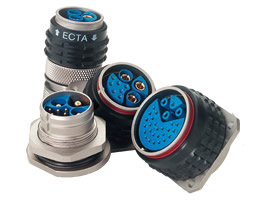 ECTA 133 Series Connectors


The ECTA 133 connector was especially designed for industrial applications with its rugged design, convenient push-pull operation, wide range of contact sizes and high contact density. Metal Push-Pull Connectors for power and signal applications. Series 1331 with pre-mating earth (first-mate/ last-break) contact; current ratings up to 125A. Series 1332 spec'd with high contact densities for signal or low-power transmission; maximum current rating of 25A; wide range of shell styles and sizes; choice of crimp, solder or PCB contacts in various sizes; operating temperature range of -40°C to +125°C; environmental protection rating of up to IP67.
It provides an ideal component to use in a wide range of applications:
Typical industrial applications such as robotics and laboratory test equipment, the transportation industry (automobile, trucks and railway) and tool interconnection.

serie 1331: power transmission connector (to 125 A) equipped with leading ground contact (and pilot contacts for the
arrangement 605 for 100 A current and 706 for 125 A current).
serie 1332: signal transmission connector (to 40 A) for data or signal transmission. The current ratings of the contacts also permit the connector to be used for low voltage transmission. Layouts 294 and 305 are equipped with power and additional pilot contacts.