D-Subminiature Connectors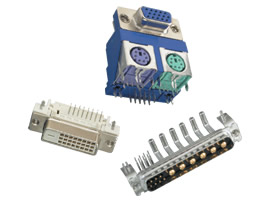 D-Subminiature Connectors


Steiner is your distributor of choice for D-Subminiature connectors and other connector products in the U.S. From low cost, straight solder and press-fit terminations to high reliability connectors qualified to MIL-DTL-24308, many styles and options are available for light duty industrial applications.
· Industry standard interfacing RS232 and RS449 mating configurations per EIA standard.
·
UL Component Recognition File number E64911 (617, 841, 17, 17D, 17HD, ED, 17RR, 17SD, 117DF, 17BH, 17TW
·
Variations available: Solder cup, Straight pc mount solder, Right angle pc mount solder, Solderless wire wrap, Crimp, High Density Right Angle, High Density Straight, Stacked Right Angle PC mount, Surface mount
·
Five shell sizes offer widest choice of contact positions: 9, 15, 25, 37 and 50 in standard density and 15, 26, 44, 62 and 78 positions in high-density.
·
Inserts are flame-retardant thermoplastic.
·
Accessories for all applications are available including strain reliefs, cable clamps, shielded backshells, mating hardware and connector to pc board mounting hardware.
·
Automatic and manual tooling is available for both crimp and IDC versions.