AT Machine Contact J1939 Connectors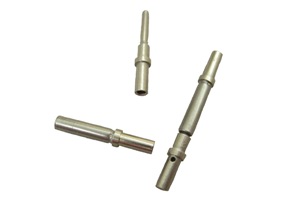 AT Machine Contact J1939 Connectors
Copper Alloy Body, Harsh Environment, Power or Signal
Amphenol AT Machine Contact J1939 Connectors were designed using existing MIL-C-39029 technology, which has long been a requirement for military procurement. These reliable, high performance contacts are ideal for use in heavy equipment for environments such as construction, mining and agricultural machinery. Contacts are nickel plated or gold plated, and are made from a high quality copper alloy. The socket utilizes a stainless steel hood to protect against probe damage. Contacts are rated for 13 Amps max current. Used typically in the Heavy Equipment market with J1939 connectors.
·
No electrical or mechanical defects after 100 cycles of engagement or disengagement
·
Terminal shows no evidence of corrosion after exposure to 48 hours of salt spray per MIL STD 1344, Method 1001
·
Maintains continuity and exhibits no mechanical or physical damage during or while subject to sinusoidal vibration, having an amplitude of .060 inches double amplitude and the frequency varied linearly between limits of 10 to 2000 to 10 Hz with a maximum force of 20 G's. No electrical.
·
Operating Temperature Range –40° / +125°CF/B
·
Thermal Shock –40° / +125°C, 100 cycles, 1 hour per cycle
·
No unlocking, unmating or other unsatisfactory result during or after 50 G's in each of three mutually perpendicular planes. No electrical discontinuities longer than 1 microsecond. MIL STD 202, Method 213, Condition "C".