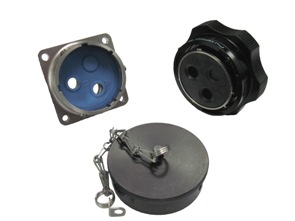 Amphe-TVS Connectors
Circular, Aluminum/Copper Alloy, Bayonet Coupling, Harsh Environments, 2 and 3 contact Connector.
The Amphe-
TVS connector
is designed for communications equipment manufacturers with power interconnect requirements. Applications for this product would be in harsh environments such as towers, outdoor and roof-top applications. The Amphe-TVS connector offers the highest performance capabilities for severe environment applications. There are 2 insert patterns to choose from: The 2 pole for DC power and the 3 pole for AC power.
·
Crimp cont
act rear insertable rear releasable.
·
Nickel
and
Sn-Ni platings available
·
Operating temp: -65
℃
- +125
℃
·
Integral Interfacial Seal and Grommet bonded to insert
·
IEC61984 Certificated
Connector
·
Excellent EMI Shielding
·
Current rated to 80Amp with proper contacts
·
500 hours salt spray test with proper plating and base material
·
TUV IEC61984 Certificated
·
Commercial 26482 Series II Type Connector