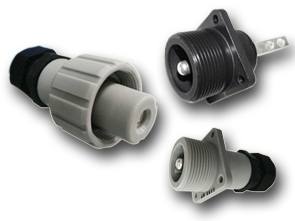 Amphe-PPC Connectors
Cylindrical, Plastic, Threaded Coupling, Benign Environment, Power Connector
Amphe-PPC Connectors are Plastic Power Circular Single Pole Connectors with Radsok Contacts, Amphenol's high current contact technology. The Connectors are colored in gray and black and differentiated in two keyway rotations to indicate polarity and prevent potential mating mistakes. These connectors are designed for environmental high power applications and have been successfully applied to Outdoor Power Supply, Control Systems, Communications in various industrial markets like Hybrid and Electric Vehicle, Heavy Equipment, Outer Door LED, Factory Automation, etc.
·
High-Current up to 120 amps with low mating force
·
Color and Keyway positions of different Polarity to ensure safety in operations.
·
Finger-Proof in unmated situation
·
IP67 in mated situation