Amphe Power Blok Connectors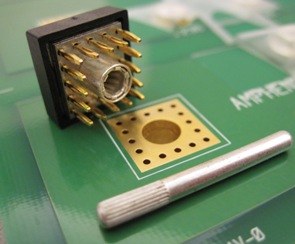 Amphe PowerBlok™ Connectors
High Amperage, Board Level, Power, Industrial RADSOK®
Amphenol Pyle National's Amphe Power Blok Connectors provides a simple solution to brining more power to the board. Modern electronics are consuming higher power levels than ever before. Conventional Board level interconnects often trade board space for higher amperage.or increase the thicknesses of copper traces in the PCB or backplane. Other options increase the quantity of the wires in the incoming power cable.
Features & Benefits
·
High Power to Board in a Small Footprint
·
Compact, 0.618 x 0.618 inch Rectangle
·
3.0mm PowerBlok™ carries 30A.
·
Backplane Power Interface with Compliant Pins for Signals
·
Eliminates Threaded Fasteners
·
No Special Crimp Tools Needed
·
Application Specifics Pins
·
Radial Socket Design Ensure Multiple Points of Contact
·
Silver Plated Electrical Engagement Area Standard
Specifications