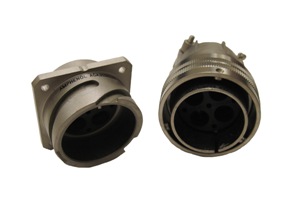 ACA-B Series Connectors
Cylindrical, Metal, Reverse Bayonet, Environmental & Rugged for Power and Signal Applications.
Amphenol Pyle National ACA-B connectors are designed for commercial and industrial applications requiring a bayonet style coupling device for high power and/or signal. Similar in design to a MIL-DTL-5015, ACA-B's are a quick, positive mating type of connector perfect for markets such as factory automation, robotics and process control equipment. Amphenol's ACA-B series has proven itself valuable in the military ground vehicle and alternative energy markets because of its low cost, high reliability design.
Features & Benefits
·
Rugged aluminum shell style
·
Available in crimp and solder terminations with silver or gold plating
·
Optional shell platings available
·
Intermateable with VG95234 and other reverse bayonet connectors
·
High shock and vibration resistance
·
Audible, tactile, and visual indication of positive coupling
·
No lockwiring necessary
·
Operating temperature: -55°C to +125°C
Specifications
·
Meets certain elements of VG95234